By the time I returned to San Francisco for the last two days of my U.S. trip, I'd spoken to a huge number of amazing, inspiring and justly famous people. So much so that when Cheryl Morgan told me that Neil Gaiman would be launching his new collection in San Jose the next day, I decided not to take the 1-hour trip each way (despite my enormous admiration for the man and his writing and my great interest in his newest project), but to stay in San Francisco for some last-minute gift shopping.
So, the next day, after looting the corpse of Tower Records, I headed out to the wonderful
Borderlands Books
; bought a book for
throughsoftair
, and resisted the urge to buy DVDs for myself (not even their copy of Peter Watkins's
Punishment Park
: can someone please congratulate me for my self-restraint?). Alan Beatts, the owner, mentioned that he was heading out to Haight-Ashbury in an hour or so, and offered me a lift if I was still in the area. So I did some more shopping, bought a gift for
chaosmanor
, and, since it was lunchtime, I popped into a cheesesteak shop.
I was sitting at the counter waiting for my cheesesteak, when I noticed a very attractive redhead sitting in the opposite corner. She also looked strangely familiar, and then I noticed...
her baseball cap.
Mythbusters
is one of the few TV shows I still watch live (putting up with the ads, rather than waiting for the DVD), and Build Team member Kari Byron is one of the reasons for my enthusiasm. So I went over and burbled something witty and insightful like "Excuse me, are you...?".
She proved to be enormously friendly, and as the group she was sitting with (production crew from the show) included an Australian and a hardcore science fiction fan, we had a wonderful chat.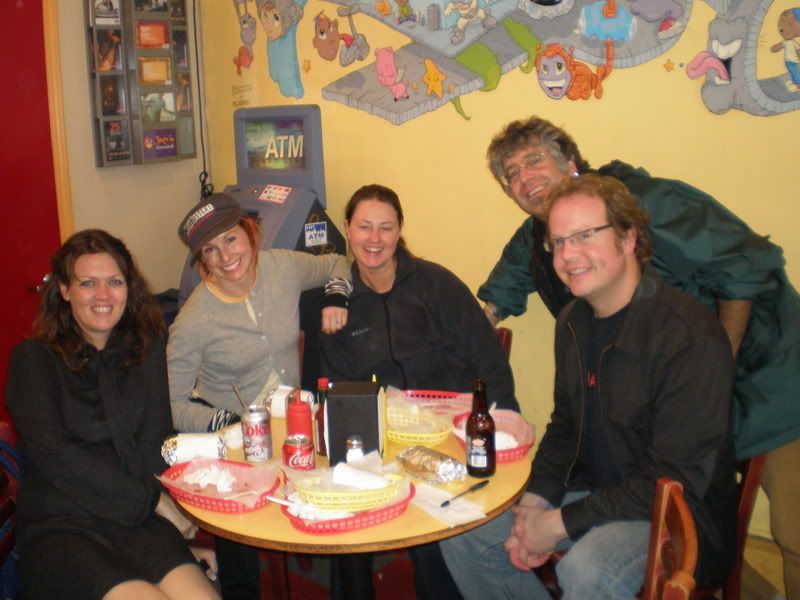 After that, there's not much else to tell - just some more shopping (and a fruitless search for the
Don't Panic
shop), and then a long flight home to another gorgeous redhead.