Going to Carolina in my Mind
Atomacon 3 was a small regional con, but it was at the right time and had the right guest, my old friend Robert J. Sawyer (okay, so he's a few months younger than me), so I volunteered for some panels and flew from New Orleans to Charleston, South Carolina (via North Carolina. Go figure).
Let me say upfront that I enjoyed the con. As well as catching up with Rob, his charming wife poet Carolyn Clink, Janny Wurts (who remembers Perth with affection, and would love to come to another Swancon) and Don Maitz, I met science comedian Brian Malow and a lot of local writers and fans, all of them delightful people. The venue was a good size and convenient to the airport (if not to much else), and the staff were very helpful. There was a lot of excellent cosplay, and the program was generally well-organized, with set panel rooms for literary, science, costuming, etc.
It wasn't until after the con that I discovered why the literary panels were so poorly attended. The same weekend in Charleston, there was a
Young Adult Book Festival
where guests included Brandon Sanderson, Rachel Caine, Gail Carriger, Mercedes Lackey, Richelle Mead, R. L. Stine, Scott Westerfeld and Jane Yolen. And on the Sunday, Bernard Cornwell was in town signing books. No wonder the Diversity in Genre Fiction panel, despite featuring Janny Wurts and four other writers, had an audience of... um... me. The huckster's room, similarly, had tables selling toys but no-one selling books other than one second-hand book dealer, Janny Wurts and Don Maitz selling backstock rescued from a defunct publisher (though self-published authors and small presses were selling books in the hall outside).
Despite this (and despite my making a cringe-inducing gaffe while moderating a panel on Pirates, Rogues and Blackguards), I did enjoy the con, and possibly should have stayed in Charleston a little longer; instead, I flew to San Francisco.
I love San Francisco, but this visit was a little disappointing, because the friends I'd made plans to see were sick or dealing with family emergencies. I did, however, get to do a little shopping at
Borderlands Books
, Amoeba Music, City Lights Bookshop and in Chinatown, and managed to grab a crab chowder in a sourdough bread bowl from Fisherman's Wharf while avoiding the nastier tourist traps. Then it was back to the airport, and off to Japan.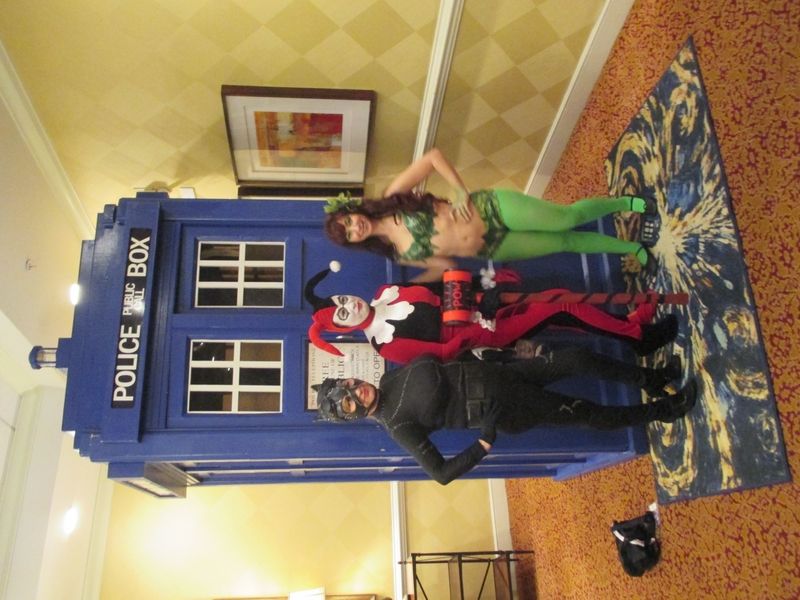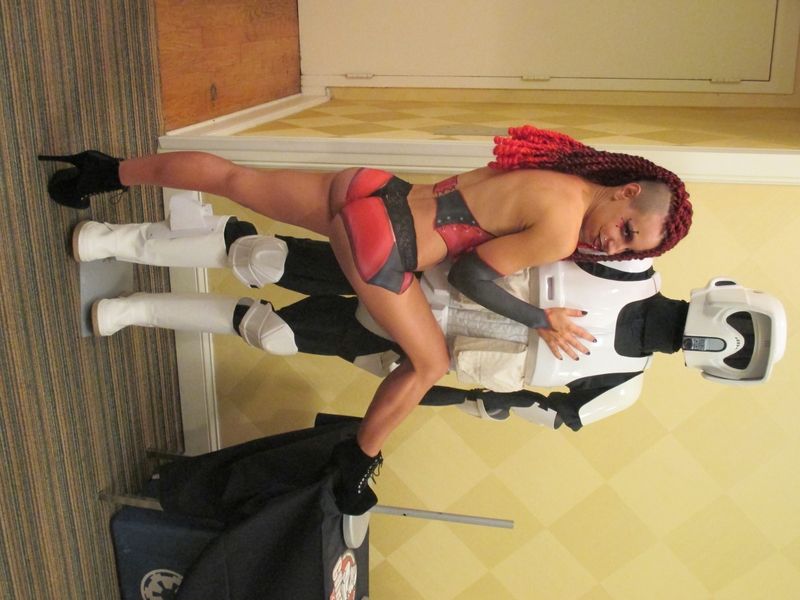 Hall costumes and bodypaint at Atomacon 2015.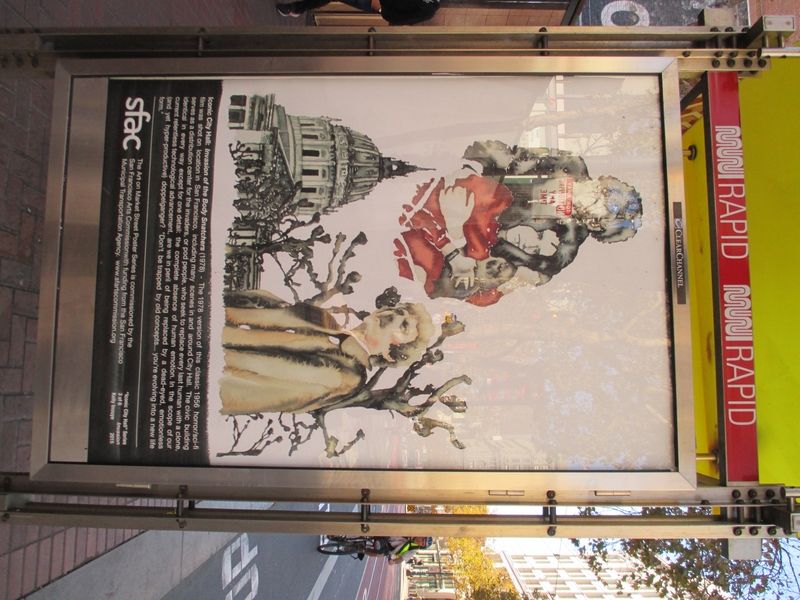 Invasion of the Body Snatchers
remake/sequel on a San Francisco bus stop. Other stops on the street had posters for
Milk
and
Bullitt
.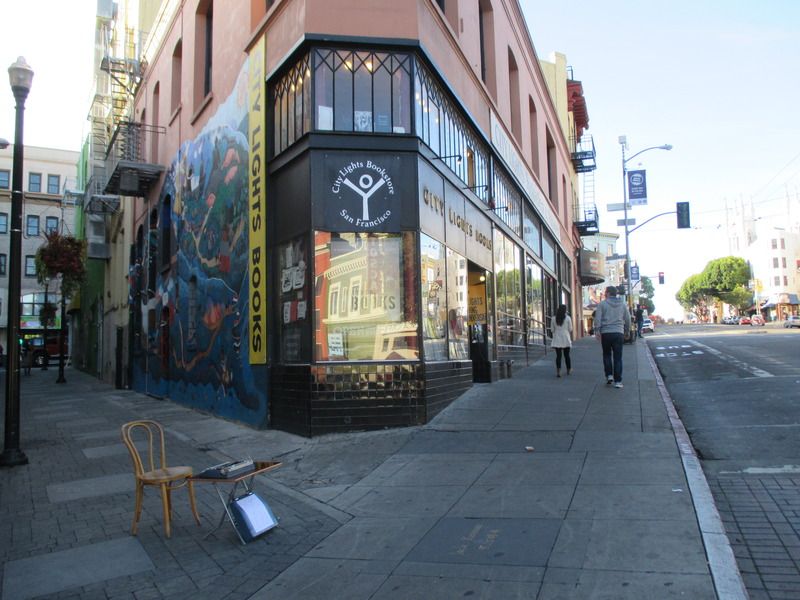 "Poet for Hire" and plaque commemorating Jack Kerouac, outside City Lights Bookshop.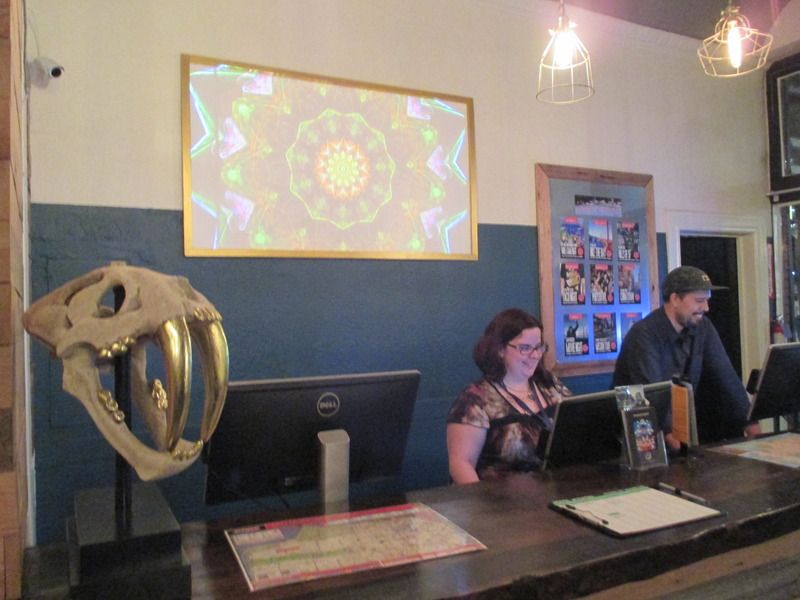 Reception desk at the San Francisco Downtown HI Hostel. They went to a lot of trouble to make me feel at home: I have the same Smilodon skull replica (without gold teeth) on a bookshelf in my study!