Sober on Bourbon Street.
I've loved New Orleans since I attended World Horror Con here in 2013, and wasn't about to pass up an excuse to spend the week between WFC and AtomaCon enjoying the weird and often macabre history, the architecture, the live music, and most importantly, the food in this unique city. My visit could have been timed better – there was an omelette festival the weekend before I arrived, a gumbo festival the weekend after I left, crawfish were out of season and Johnny's Po-Boys was still being repaired after a fire in October – but even so, the place was still fantastic.
As well as three excellent
walking tours
–
food, ghosts and voodoo
-themed – I visited the aquarium, browsed the shops, ate too much (at least, too much that wasn't crawfish etouffee or catfish: if you want to read my restaurant reviews, check out
TripAdvisor
), and took in a voodoo burlesque show at Déjà Vu on Bourbon Street... which was great fun, though I could have done without the last dancer wearing a live boa constrictor as a g-string, and was very glad that my front row seat had wheels so that I could retreat out of range. Hats off to the geek spruiker outside another of the strip clubs, who recognized the artwork on my T-shirt from five metres away and told me there was free entry for
Blade Runner
fans (possibly the same man who spotted my
Shadowrun
t-shirt in 2013 and enthused about having played the game): I wore my
Seven Samurai
t-shirt the next night to see whether he would recognize that as well, but he wasn't there.
Even as a teetotaller, I really enjoy the party atmosphere in the French Quarter, which starts in mid-afternoon even on weekdays, and was probably still going when I caught my shuttle to the airport at 4 am.
One minor quibble I have about the French Quarter is the shortage of bookshops: I'd hoped to pick up one of James Lee Burke's Dave Robicheaux novels to read in situ, but I discovered only one bookshop in the quarter (accidentally, while on the ghost tour), and they didn't have any Burke, nor any of Barbara Hambly's Benjamin January series (though the ghost tour guide was a huge fan, and collected the entire series in first edition hardcovers). Another good way of enjoying the city vicariously is the film
The Big Easy
. But unless it comes with gumbo or crawfish etouffee, there really is no substitute for the real thing.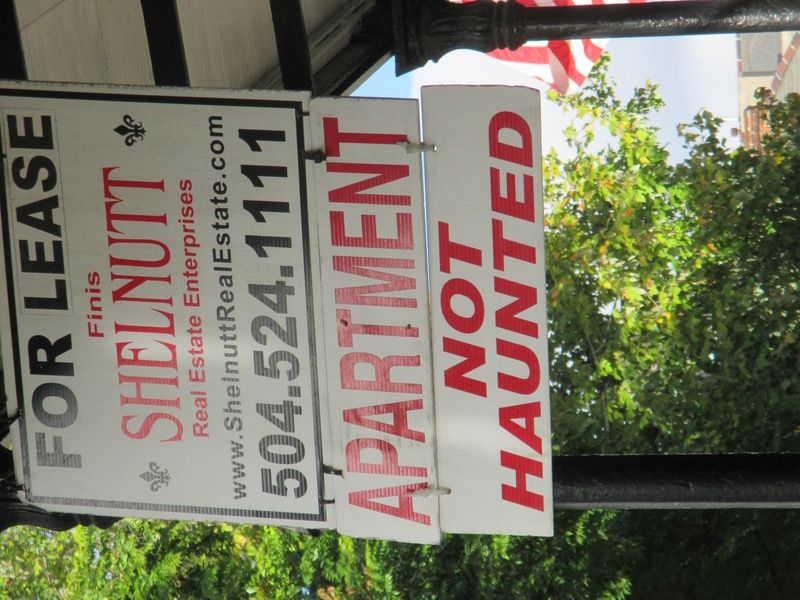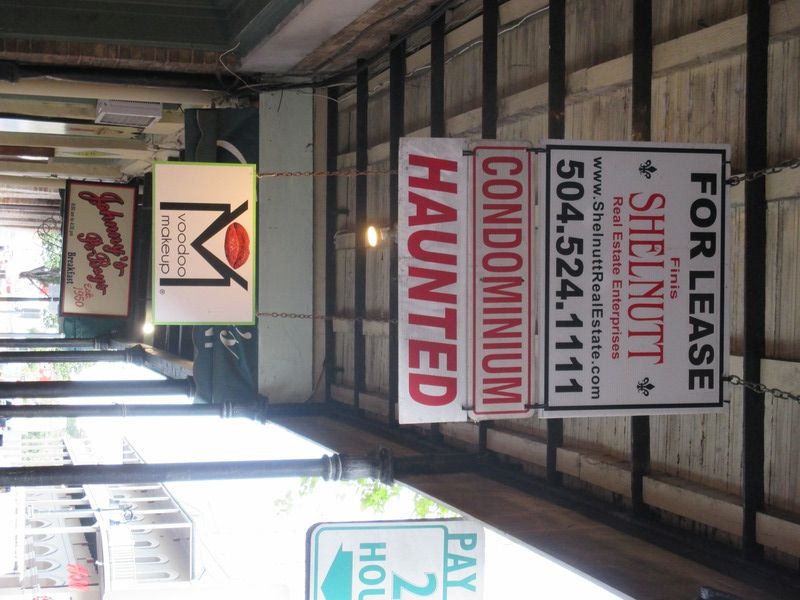 Take your pick. Personally, I'd take the haunted one two doors from Johnny's Po-Boys and wait for them to re-open. The ghost guide tour assured me that
all
French Quarter apartments are haunted, anyway.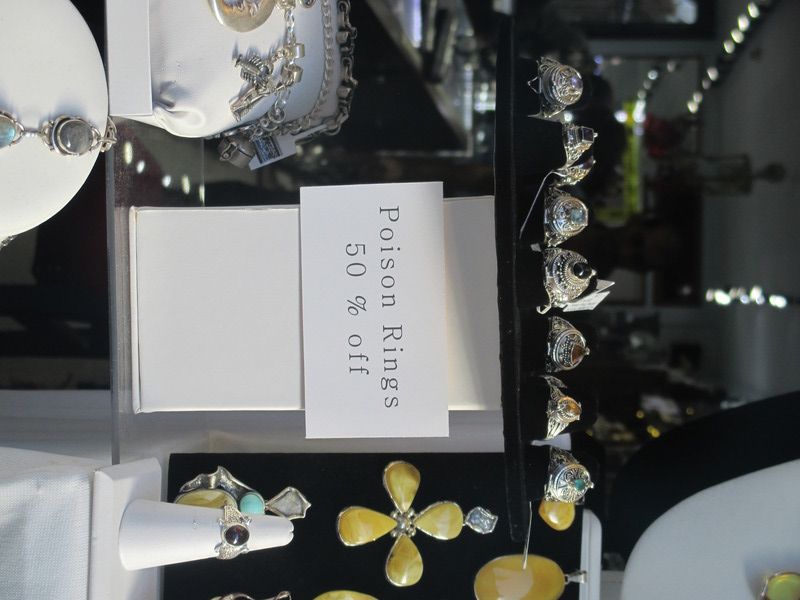 Window display in an antique store.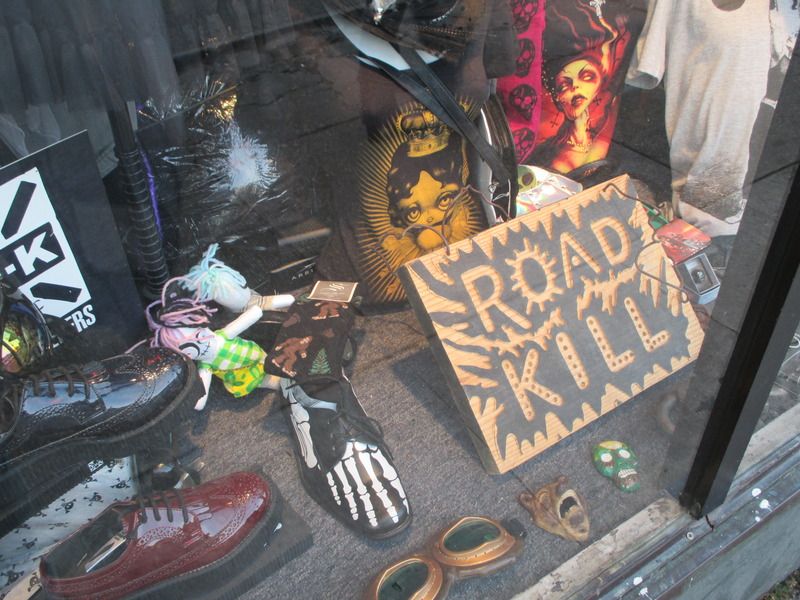 Part of the window display at
Roadkill 13
, a really cool Goth and steampunk clothing and accessory shop.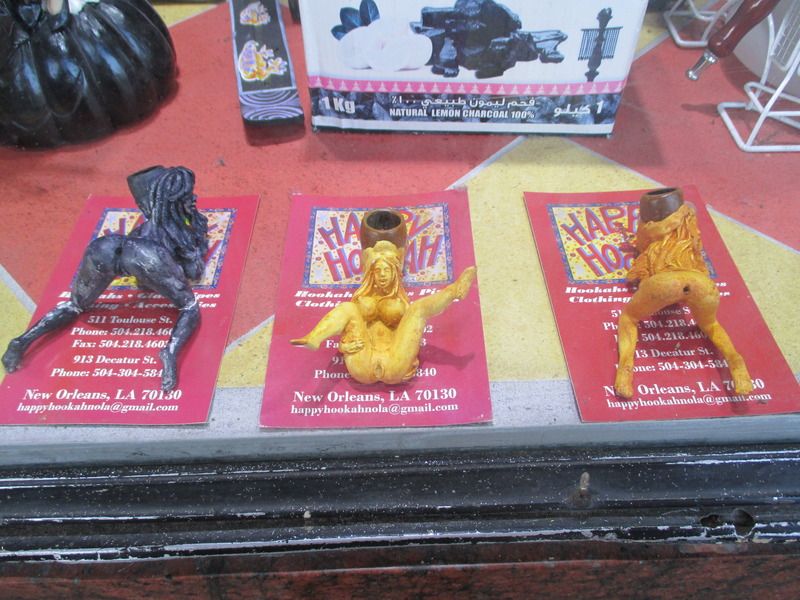 The rather less classy window display at a Happy Hookah shop.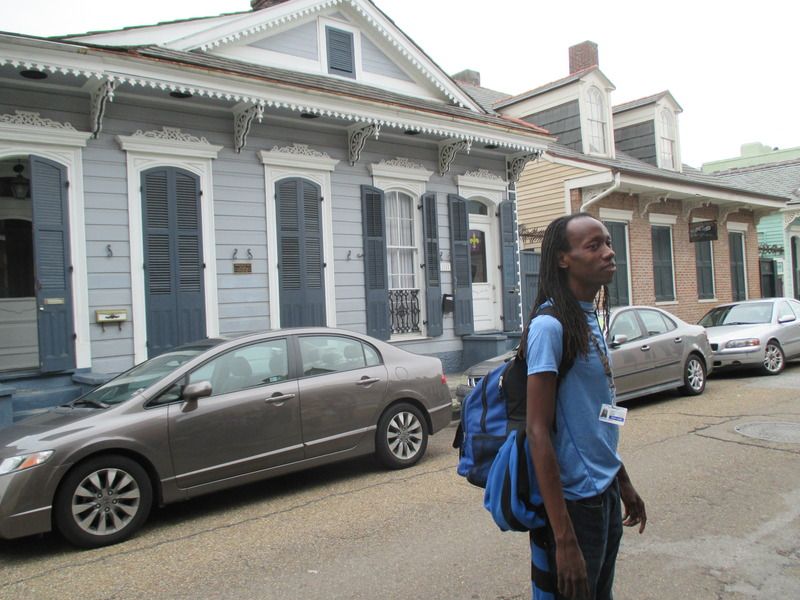 Robi, voodoo doctor and tour guide, outside the site of Marie Laveau's house (left). The house was demolished, but probably resembled the house on the right.
Back of St Louis Cathedral, Royal Street.
Stingrays love to photobomb.