On Tuesday, we went to the
Bond in Motion
exhibition at the London Film Museum, a collection of vehicles, storyboards, and a few other props from James Bond movies. Rowan was somewhat disappointed by the gift shop, because none of the pens exploded (a la the one in
GoldenEye
), so we went to Covent Garden markets in search of a suitable present for his father. From there, we went to Fortnum & Mason's for ice cream, then to the Covent Garden market, then to a gigantic Waterstones where I nearly lost Rowan, then back to the British Museum.
On Wednesday morning, we returned to Forbidden Planet, where I resisted the temptation to buy an autographed copy of
Lost Girls
(I already have the box set), and then to
Fopp
.
While it isn't listed in
The World's Most Dangerous Places
, Fopp does a disturbingly good job of turning money in your wallet into DVDs in your luggage. It's not just that most of the DVDs are much cheaper than they would be in Australia (though they are), it's that they have such excellent taste in slightly obscure titles. I knew I was going to like the place once I saw the display of Atom Egoyan Blu-rays right inside the door (cheap enough that I considered replacing my DVD of
Exotica
). Finding movies such as
Blow Up
,
if...
and
Big Trouble in Little China
for between 3 and 5 pounds without having to pay any freight charges was irresistible, and I'm already faintly regretting not buying
Downfall
and
Bonnie and Clyde
and
Trance
as well, but I had to draw the line
somewhere
. Perhaps fortunately, they don't do overseas mail order. We then visited Baker Street with the intention of seeing Madame Tussaud's, but the queue was an hour long.
On Wednesday afternoon, we went to the Globe to see
Titus Andronicus
performed in a style somewhere between Elizabethan and Grand Guignol. The cast did an excellent job of dealing with material that is so outrageously vicious and violent that it constantly threatens to broad-jump over the line between horror and black comedy all the way into Pythonesque farce, and Laura Rees's performance as the traumatized mute Lavinia was absolutely amazing. After the show, we attended a Q&A with Richard Riddell and Sam Alexander, who'd played Chiron and Demetrius.
Richard III
, starring Martin Freeman, was almost as gory: audience members sitting in the front three rows were offered protective clothing because of the risk of being sprayed with fake blood. It was done in post-WWII dress, and while remaining mostly faithful to the original text, made the last act more exciting by having the ghosts of Richard's adult male victims appear not before the battle but as combatants who Richard must defeat. Freeman did a fine job of playing Richard as a villain with no redeeming features except courage and intelligence, but none of the other male characters, including Philip Cumbus's Richmond, are significantly more admirable. Well worth seeing.
It seemed only appropriate to follow this bloodbath with a Jack the Ripper walking tour. I was somewhat disappointed that our guide wasn't famed ripperologist Donald Rumbelow but an actor, until Rowan recognized him as
Shaughan Seymour
, who had played Jane's boss in an episode of
Coupling
. The tour was interesting enough, but so much of Whitechapel has been gentrified since I took a similar tour in 1987 that the only landmark that was instantly recognizable was the (now very expensive) Ten Bells pub habituated by at least some of the victims.
I tried to get tickets for the Friday matinee of
The Importance of Being Earnest
with Sian Phillips as Lady Bracknell, but the show was booked out (*sigh*), so we headed back to Madame Tussaud's to find that the queue stretched around the block. So I took Rowan to the Tower of London
but they let him escape
, where we were entertained by a guided tour, a display of medieval weapons and torture implements, conversation with a Lovecraft-loving attendant who claimed to have lost some sanity looking at our Cthulhu t-shirts, and a somewhat condensed dramatization of Chaucer's
The Knight's Tale
. Then, after one last visit to Fortnum and Mason's ice cream parlour, I took Rowan to the
post office
airport and sent him home.
Samuel Johnson once said that ""Why, Sir, you find no man, at all intellectual, who is willing to leave London. No, Sir, when a man is tired of London, he is tired of life; for there is in London all that life can afford." While I devoutly wish that London was rather more affordable, I am not tired of it, and I hope I don't have to wait too many years before returning.
The Four Horsemen of the Apocalypse, British Museum
Hieroglyphics on a skylight around the corner from the BM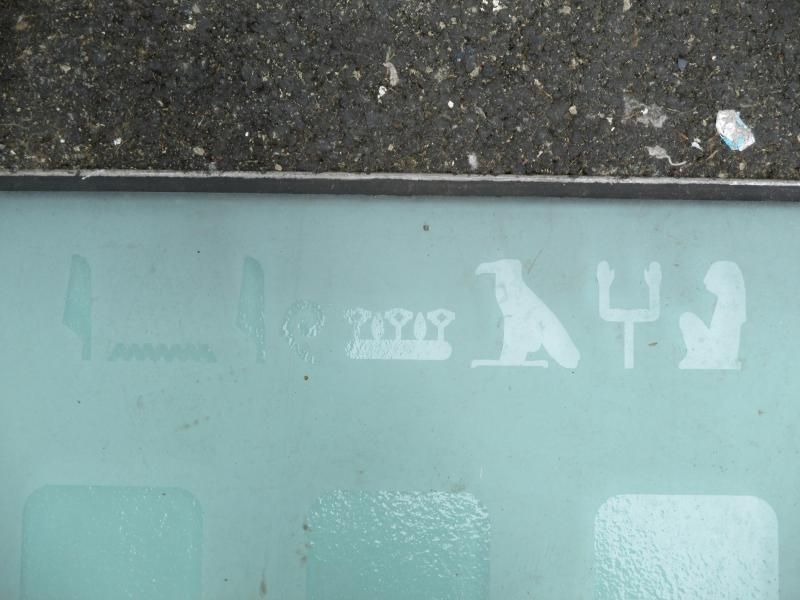 Car after a stunt (from
Skyfall
).
Jeeves and Wooster Book Bench, conveniently close to our rooms and to a very good burger bar